I read Big Little Lies, by Liane Moriarty, because I was fascinated while watching the series and wanted to know more about the characters. It was also recommended by a friend of mine with similar taste to mine, always a good bet!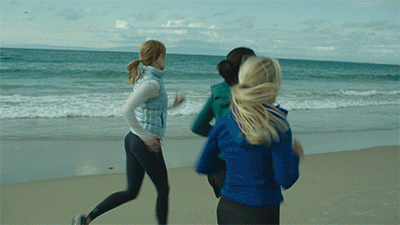 This is the book review, but I want to draw out some parallels between the two, especially as Moriarty was involved in the process to the extent that she's a credited producer.
Jane, Madeline and Celeste all have children in the same class at an idyllic school in a beautiful beachfront town. It's Australia in the book (Monterey in the TV series).  It's an affluent community, with lots of powerful egos hiding behind a façade of politeness.
The book starts at the end – an affectation which normally irritates me, if I'm honest, as it feels like lazy writing to hook your reader in at the beginning (Arundhati Roy's The God of Small Things, trod this path, I seem to remember). However, the initial hook – a murder – proves itself to be not the only thing keeping the writing going, as the characters come to life to tell their stories in the context of the climax.
I'm not going to go into detail as I don't want to spoil it, but I thought the interwoven relationships, the exploration of the teenage daughter rebelling, the awkwardness of a split family remade elsewhere and the unlikely friendships we find ourselves in, was really interesting.  Beyond the crime, I was thinking a lot about the voices of those characters even after finishing the book.
There were a couple of reveals that came as a surprise, and while I might have pieced it together if I'd tried hard enough, it was really fun for it to come together.
I would recommend this, and I'm probably going to read some more Liane Moriarty too. I'd like to see her books depart from the groove she might be in, judging by the synopses of the next books I've read, but only to stretch the writing and learn new things.